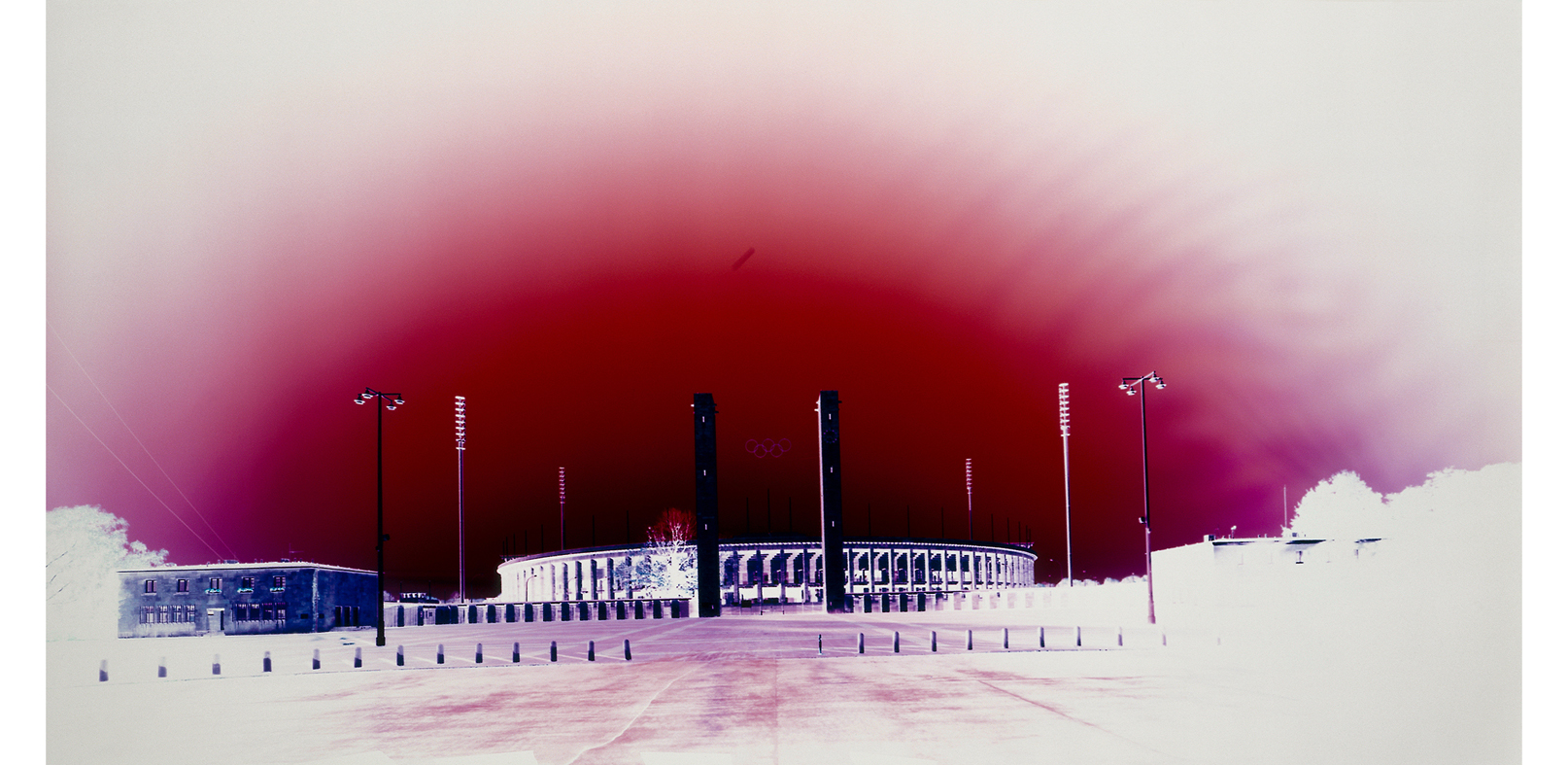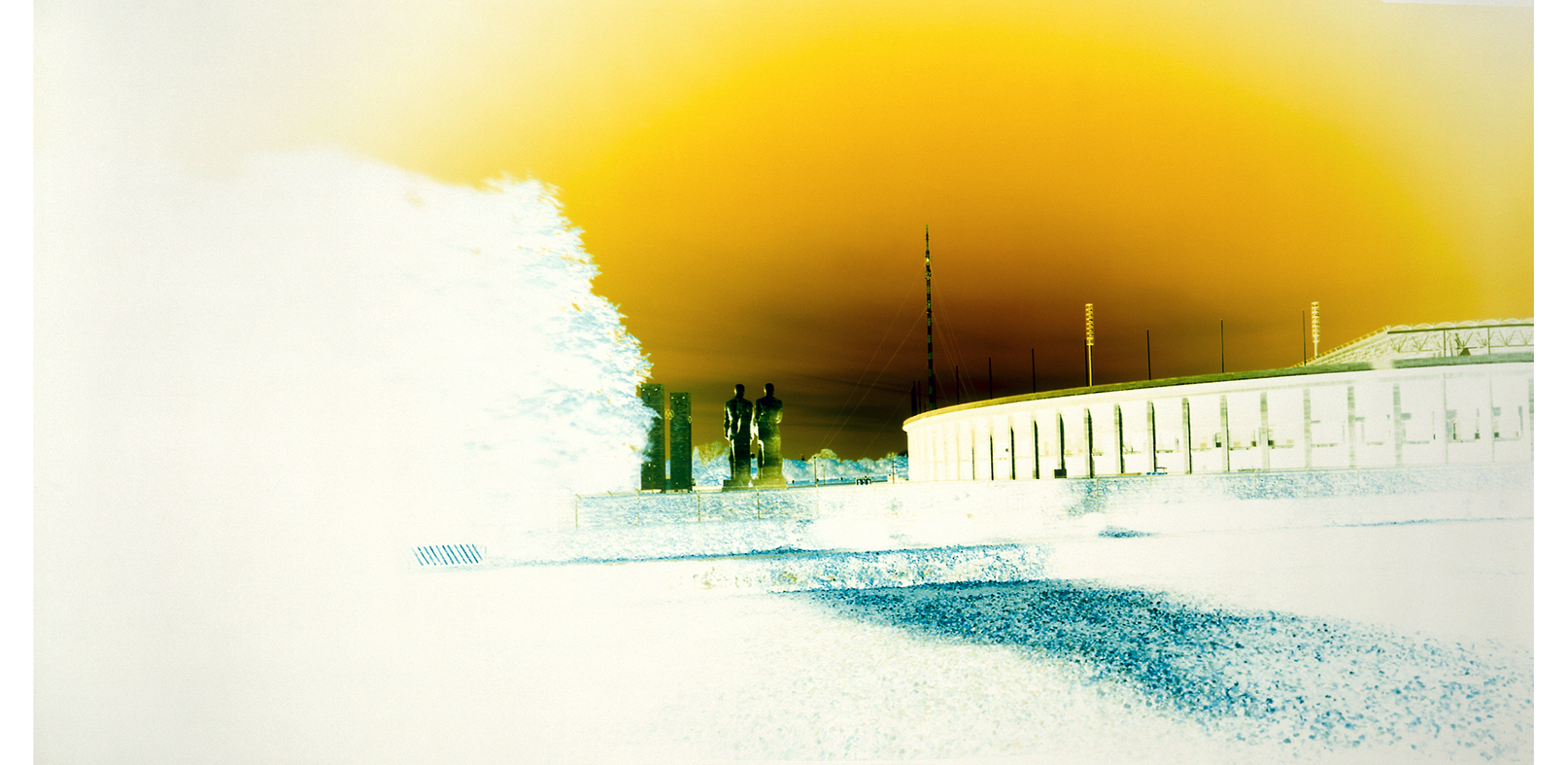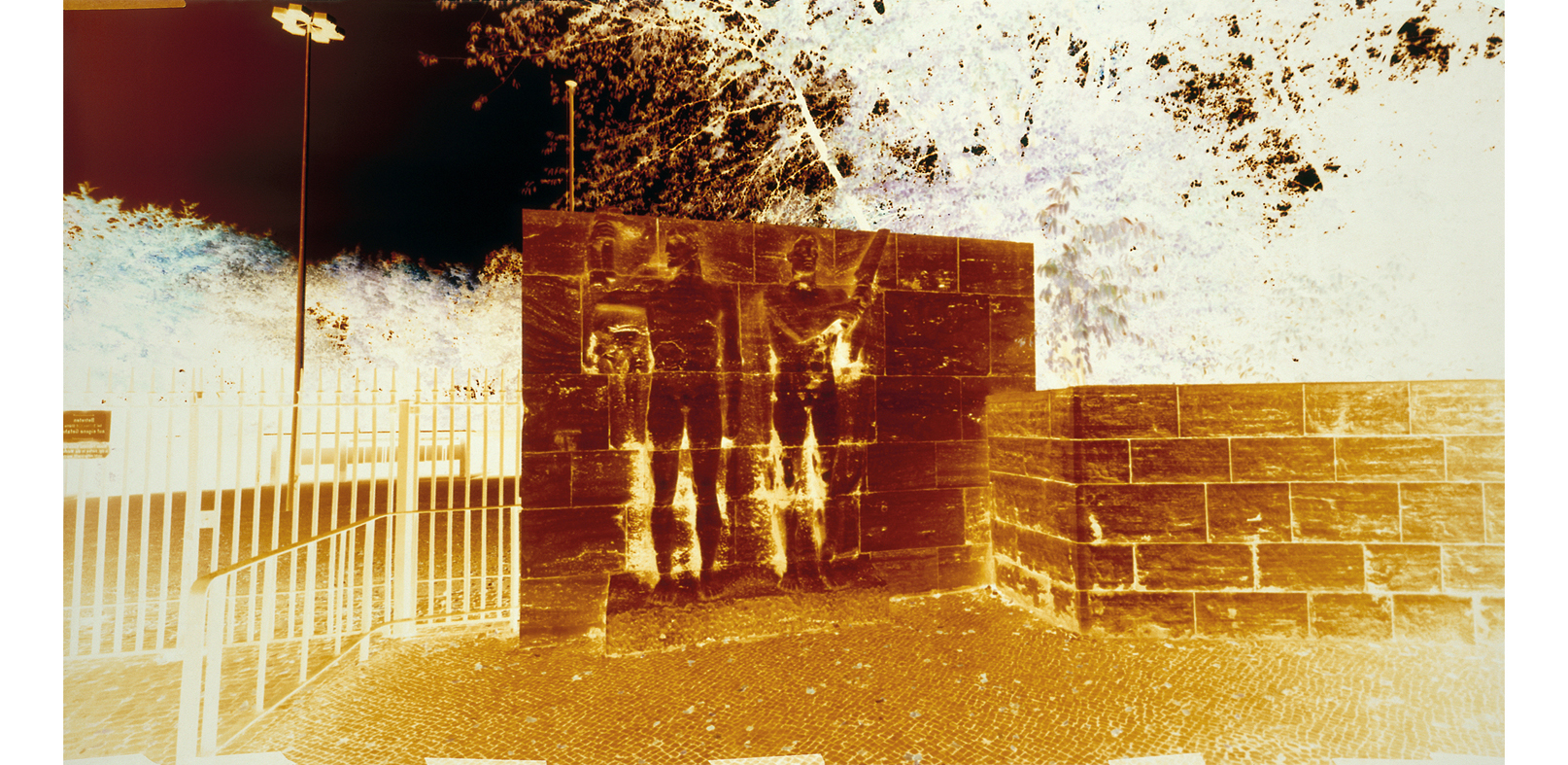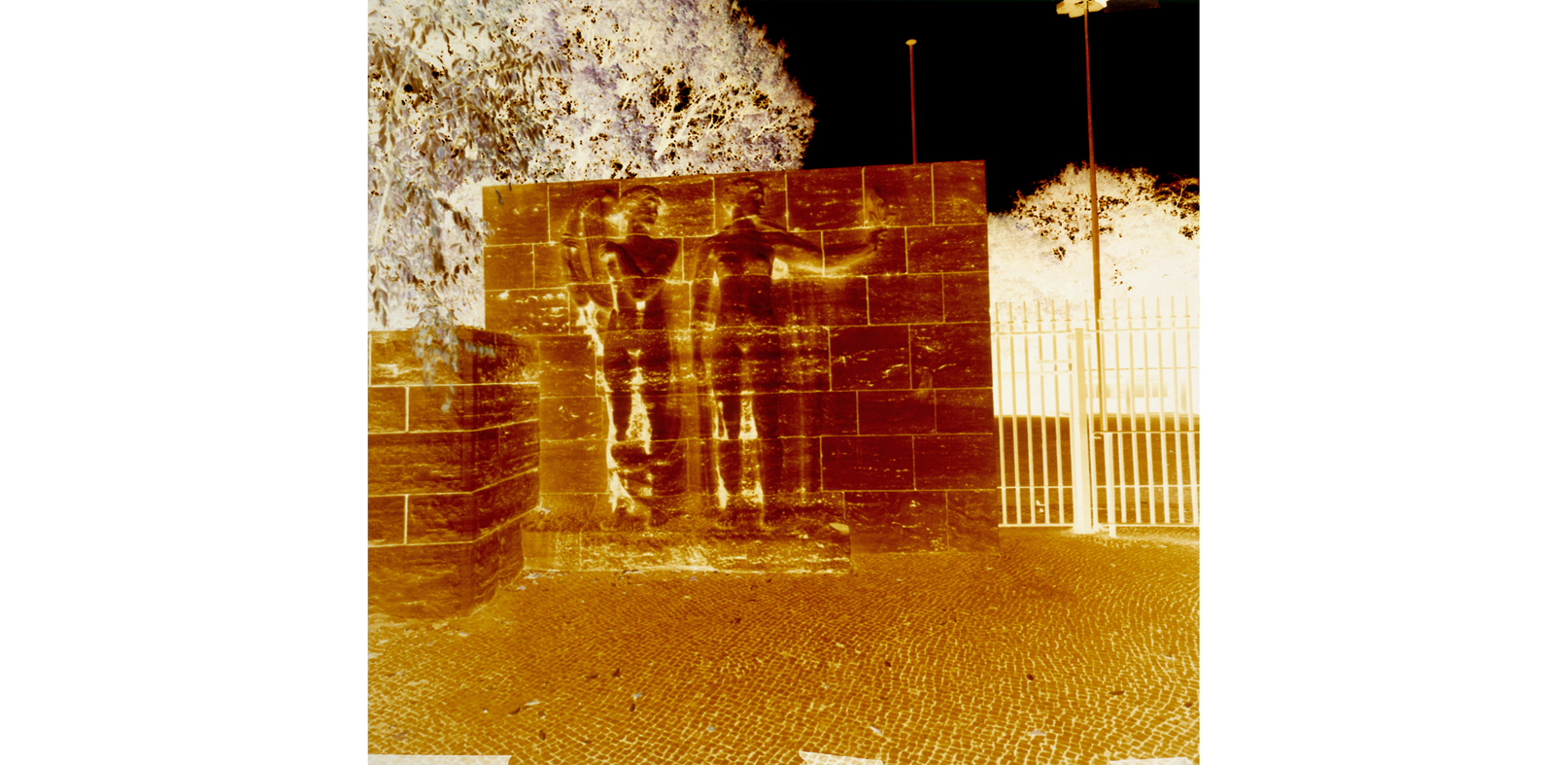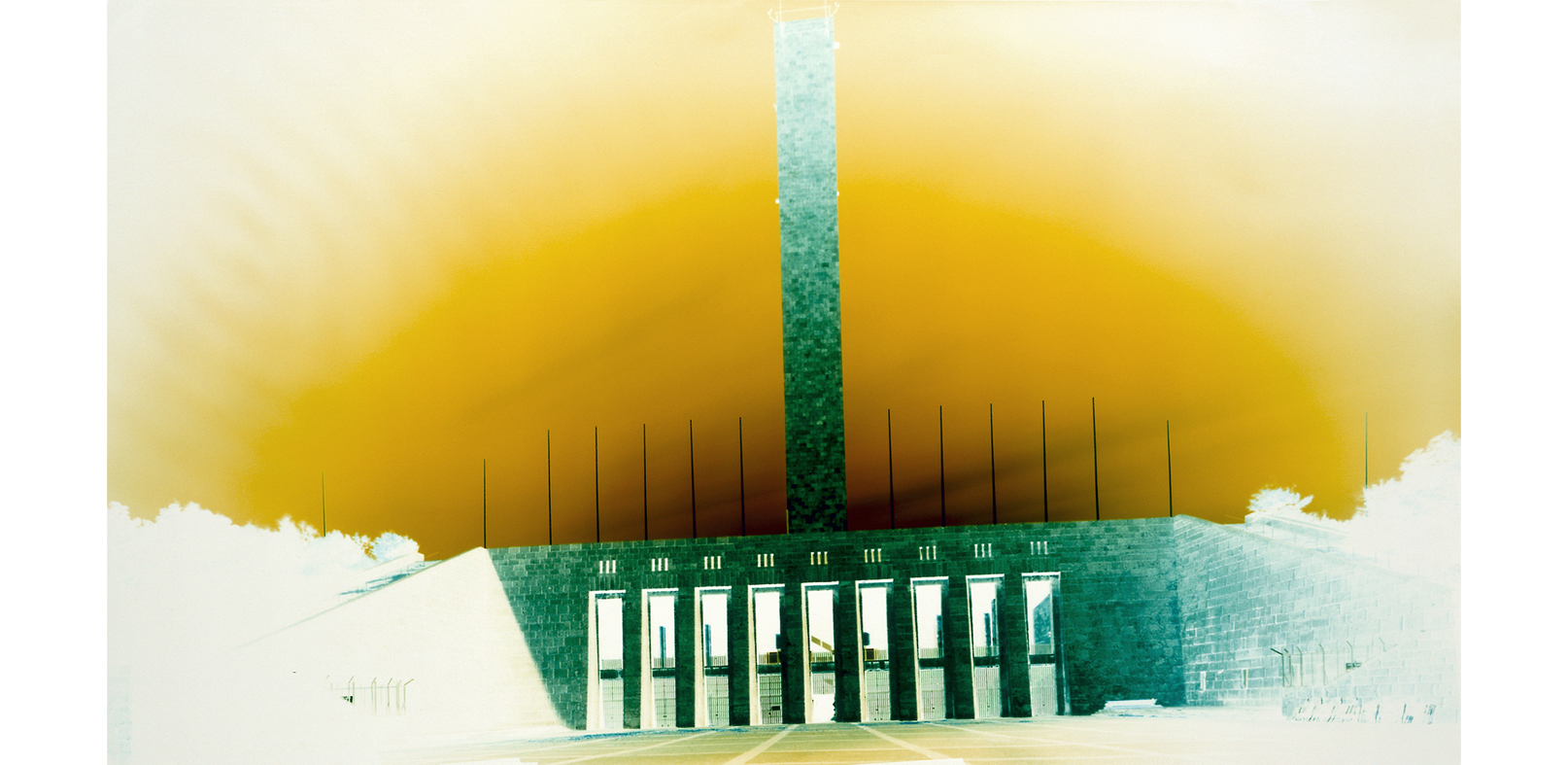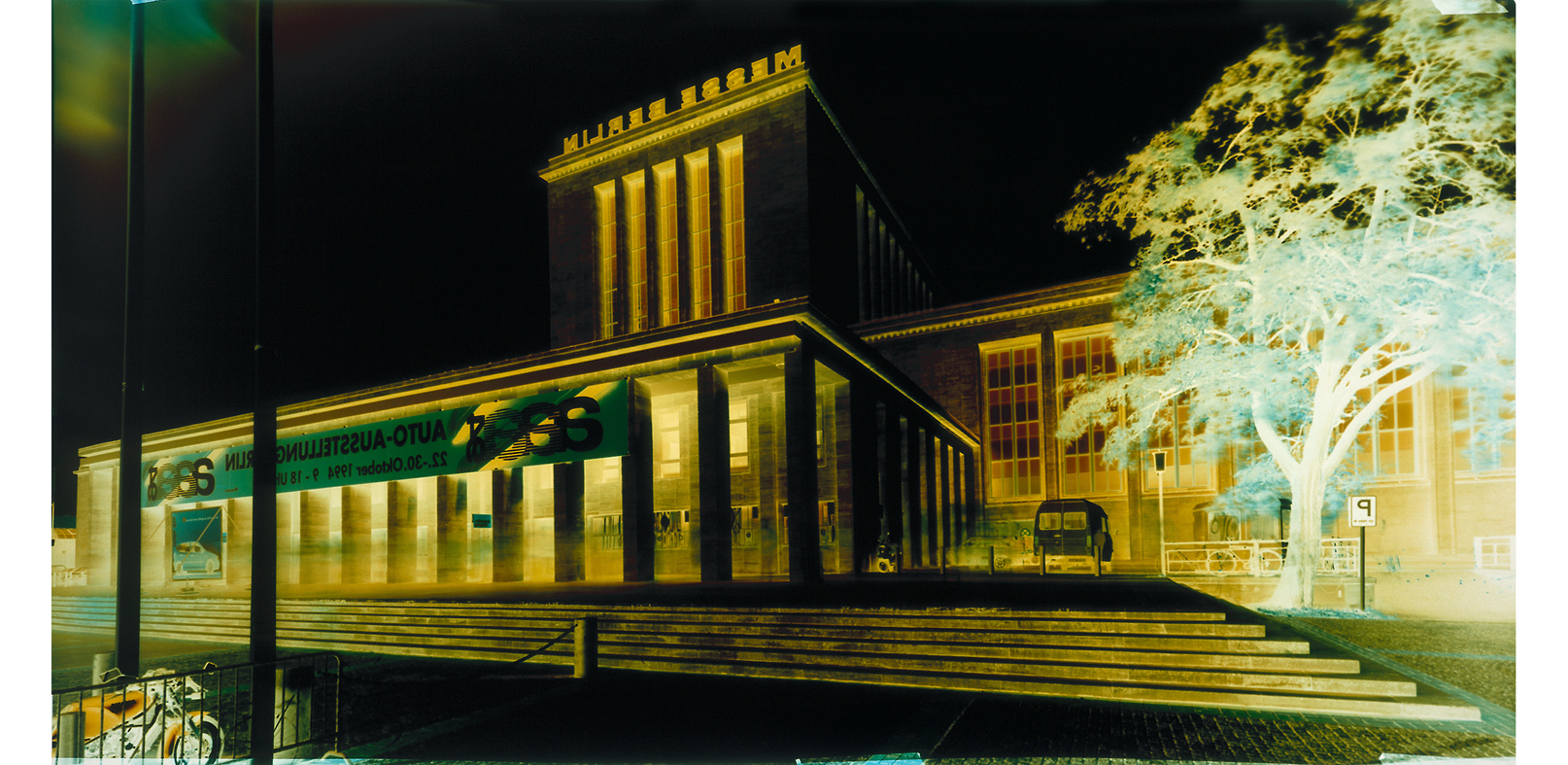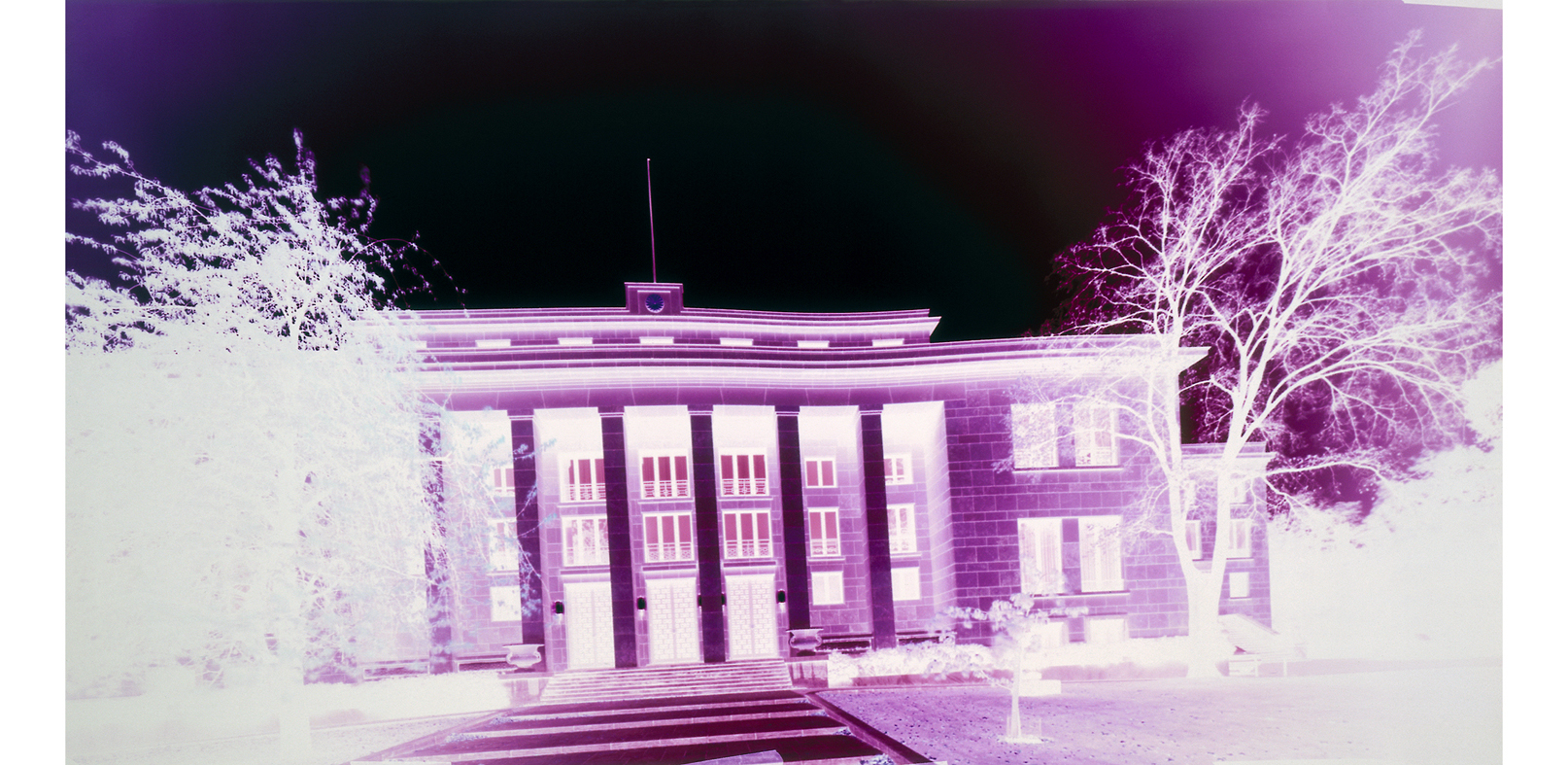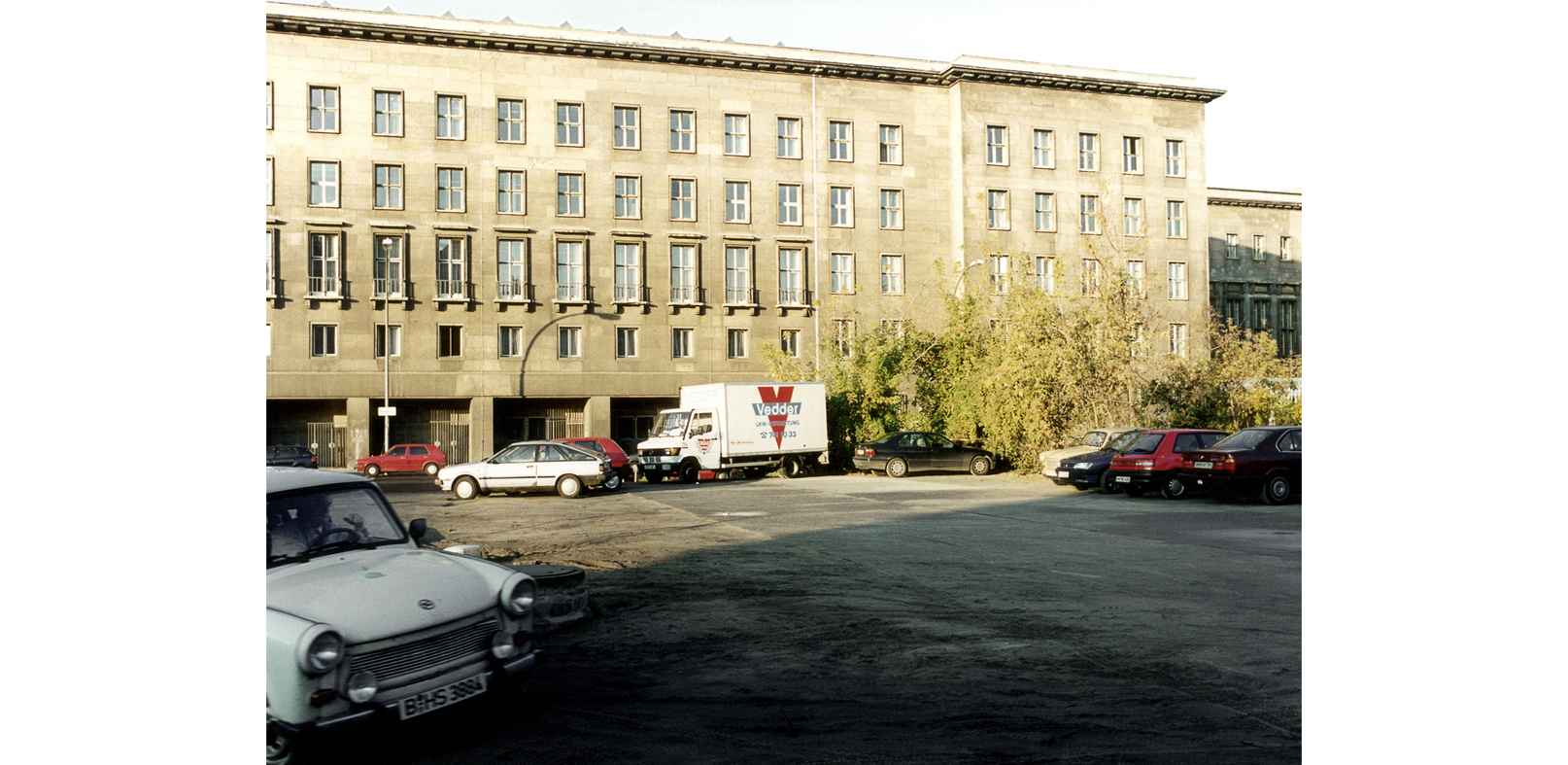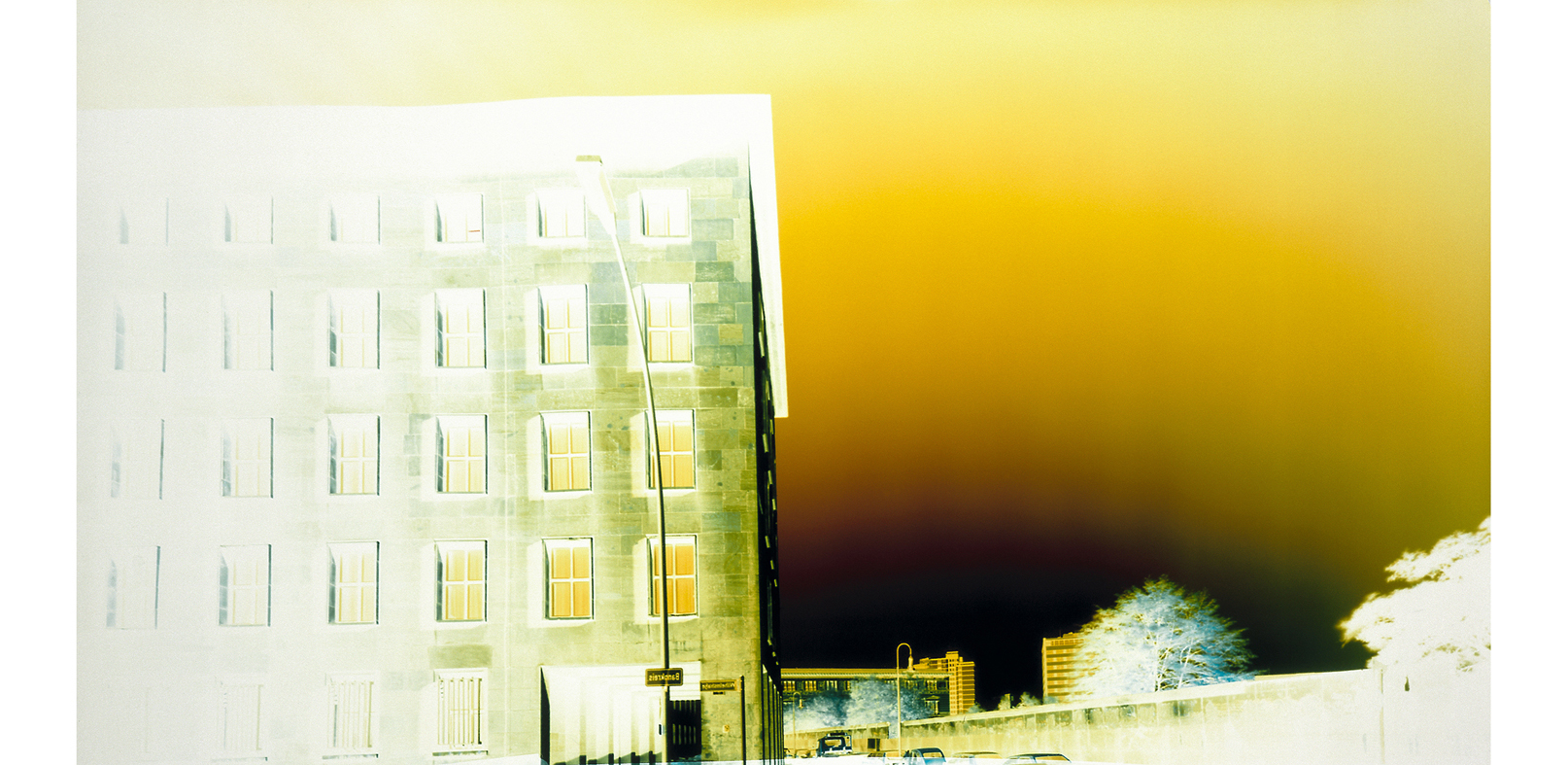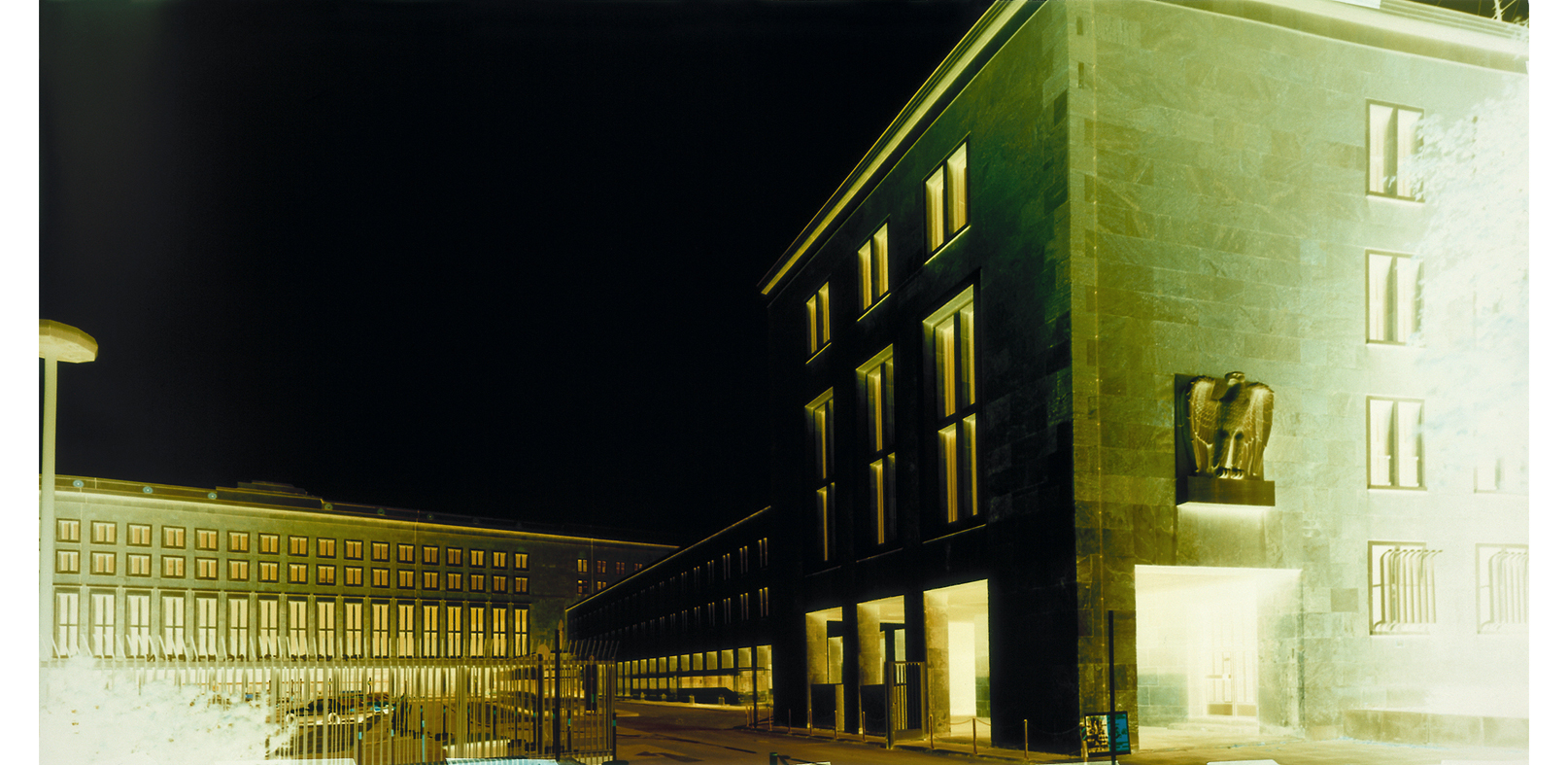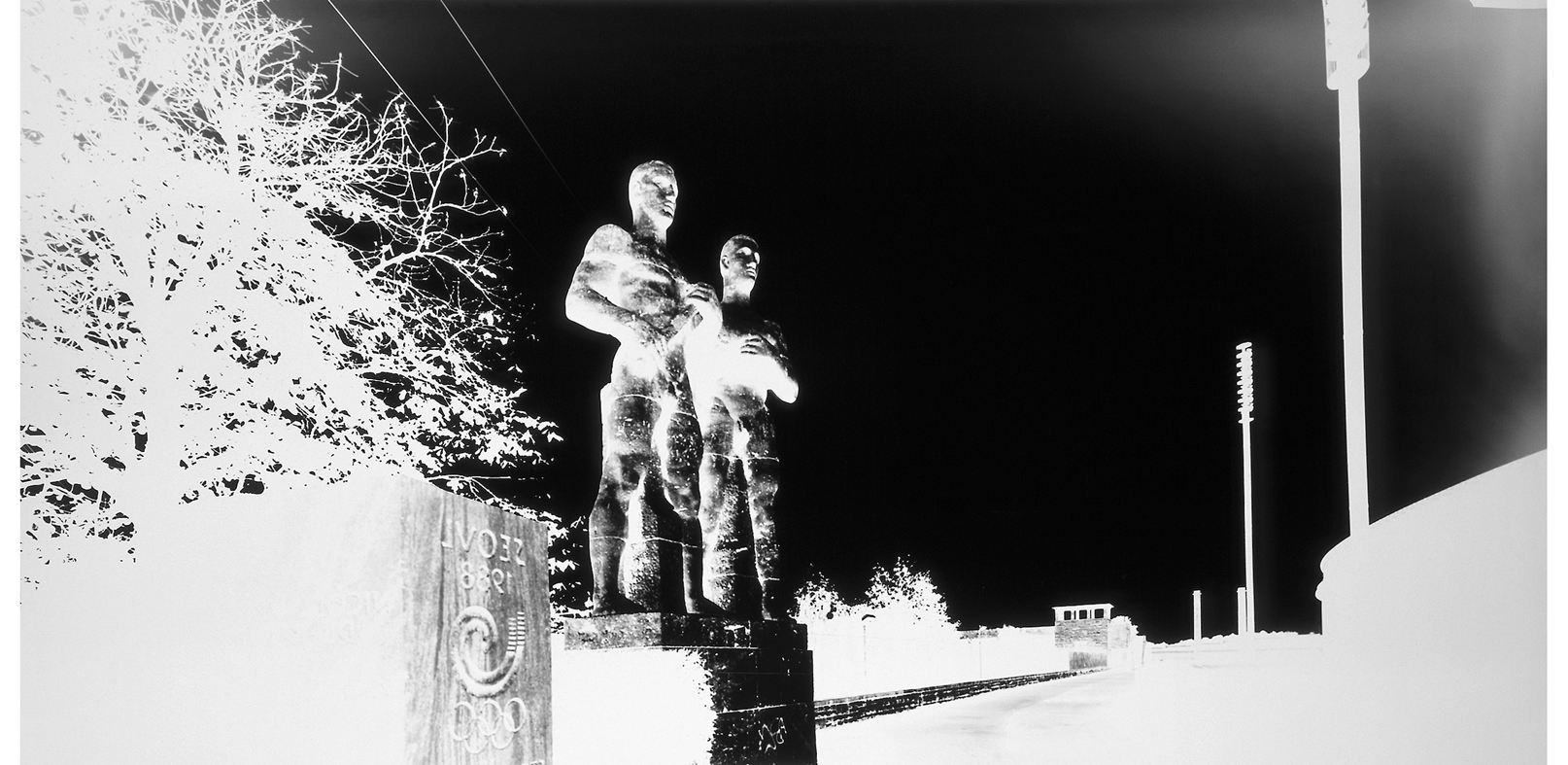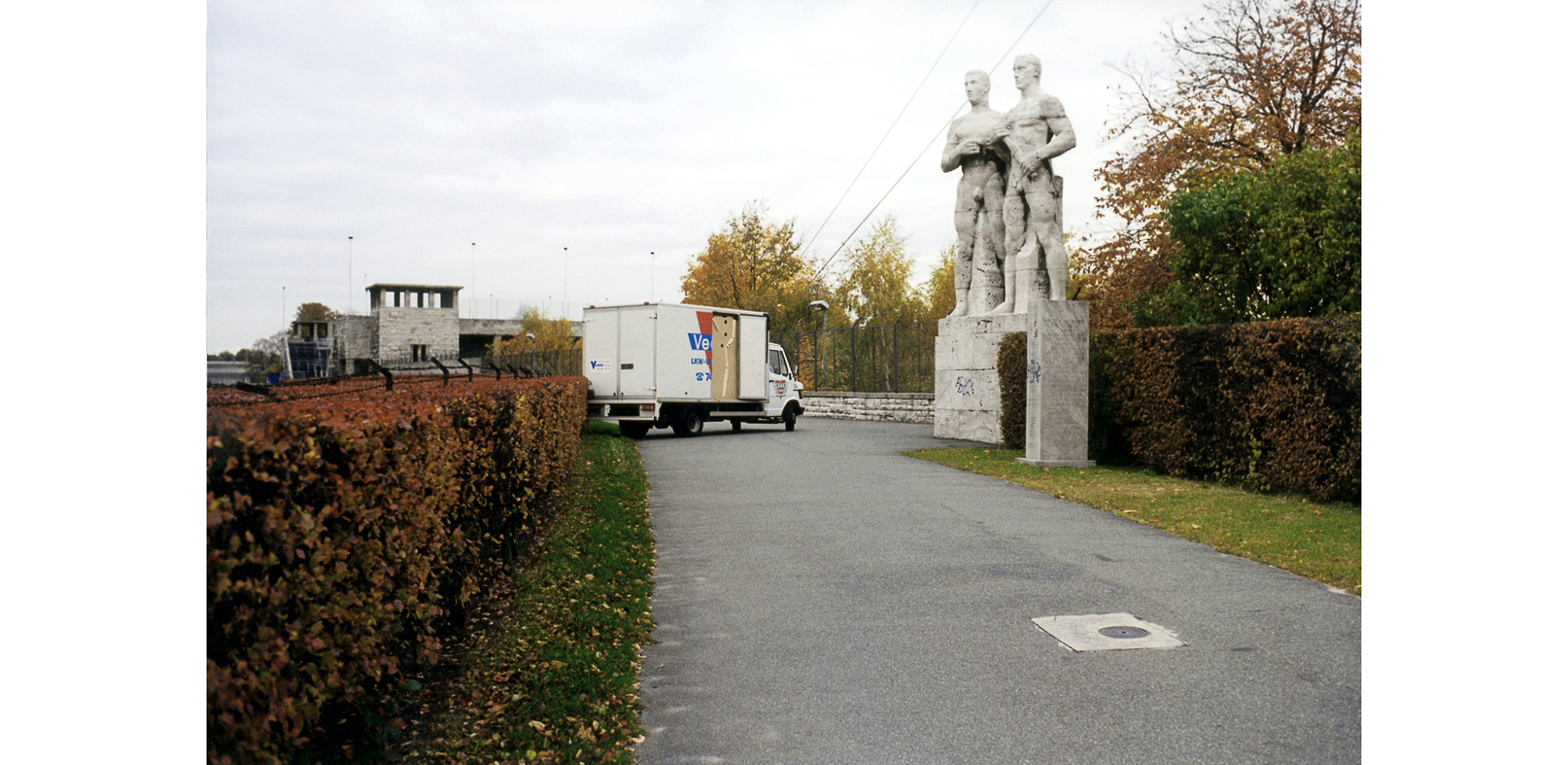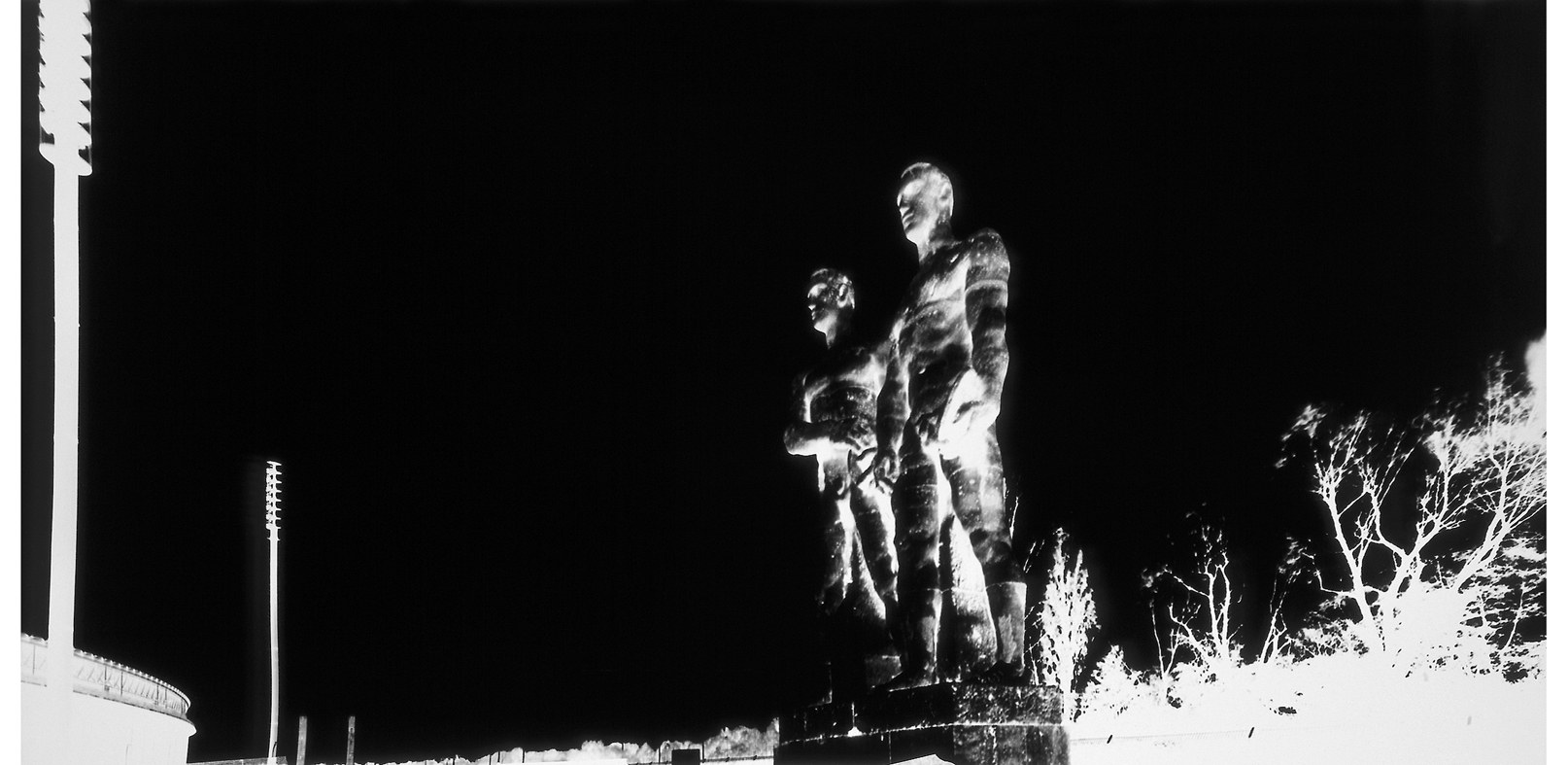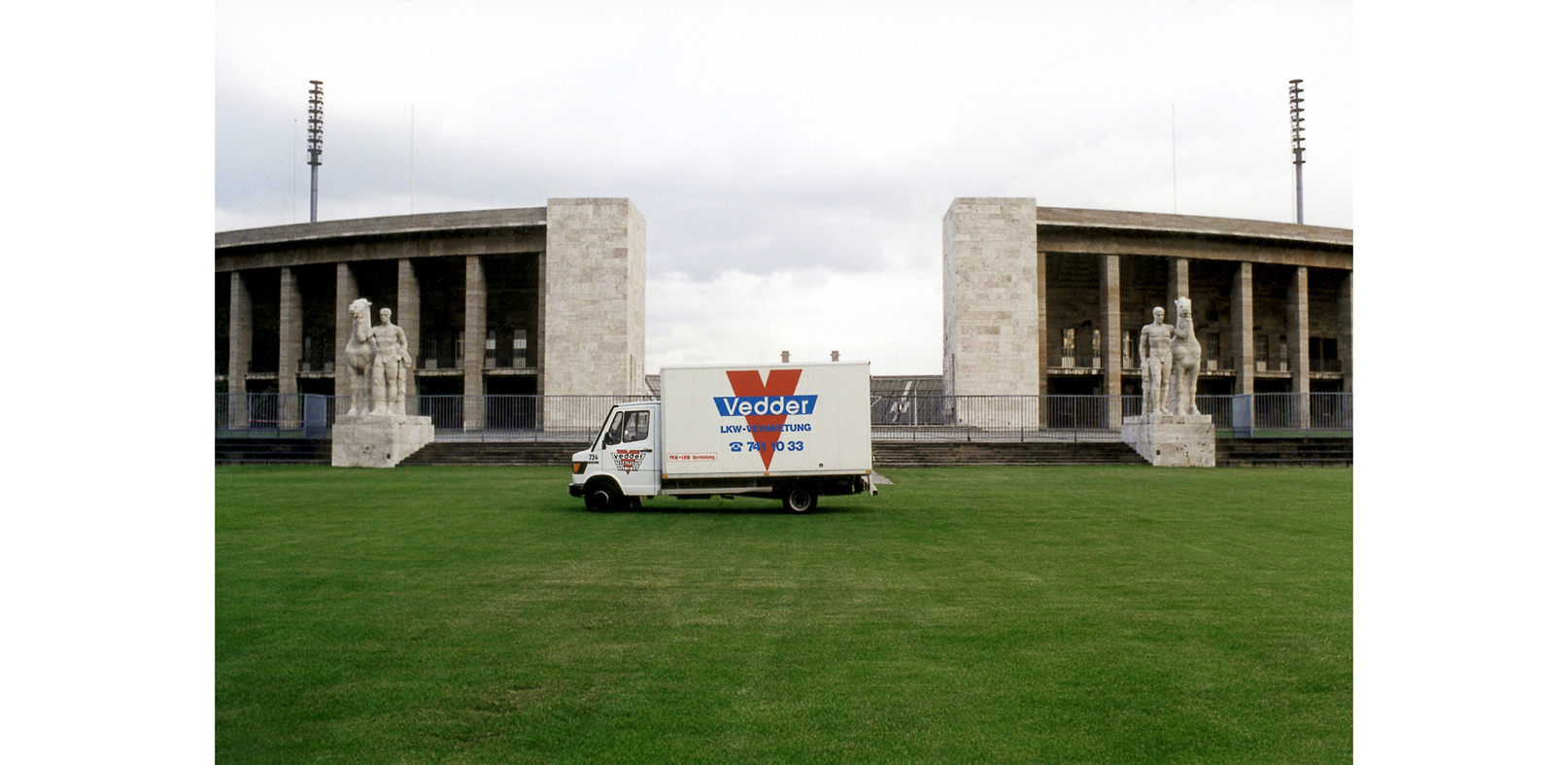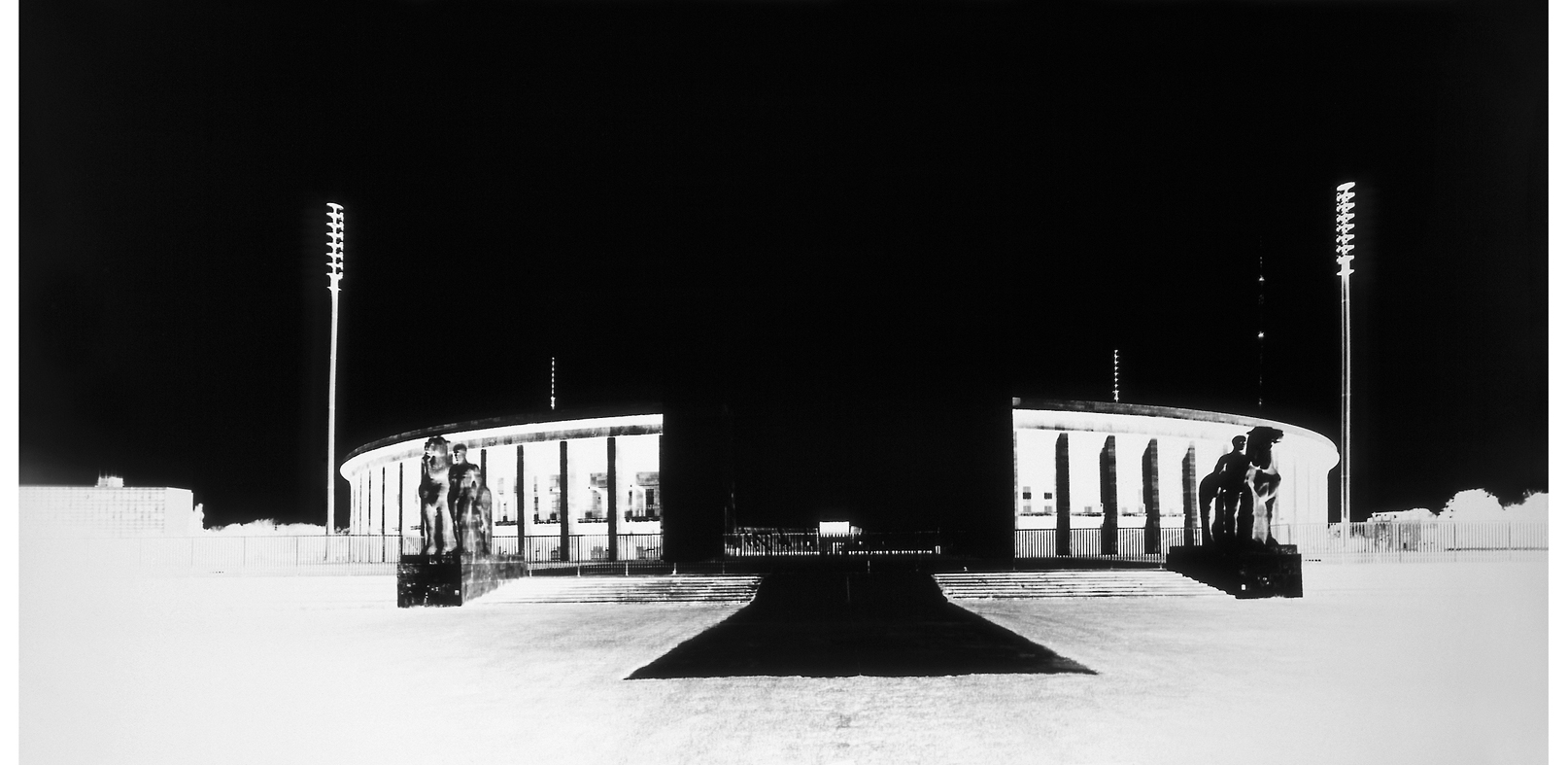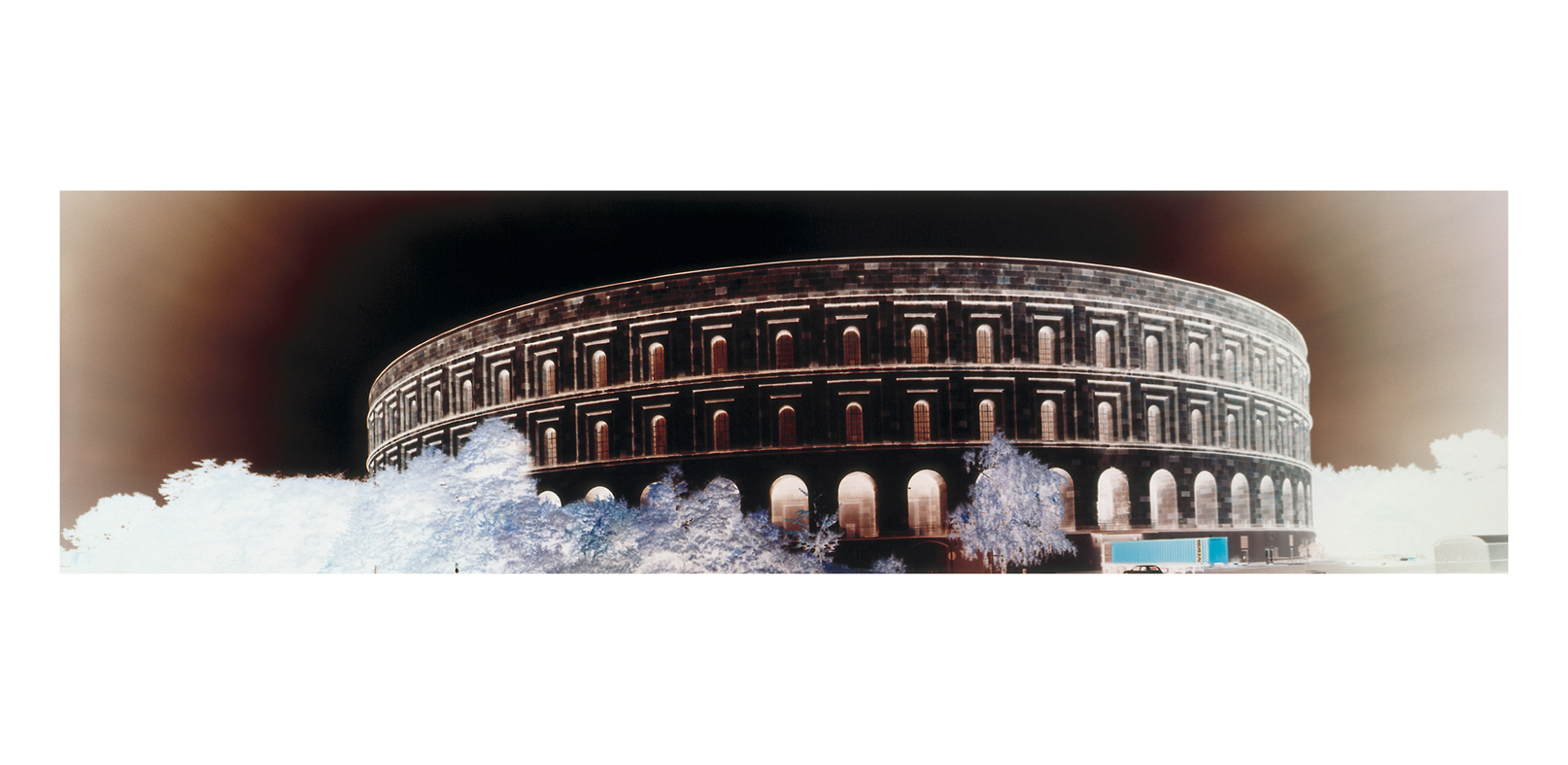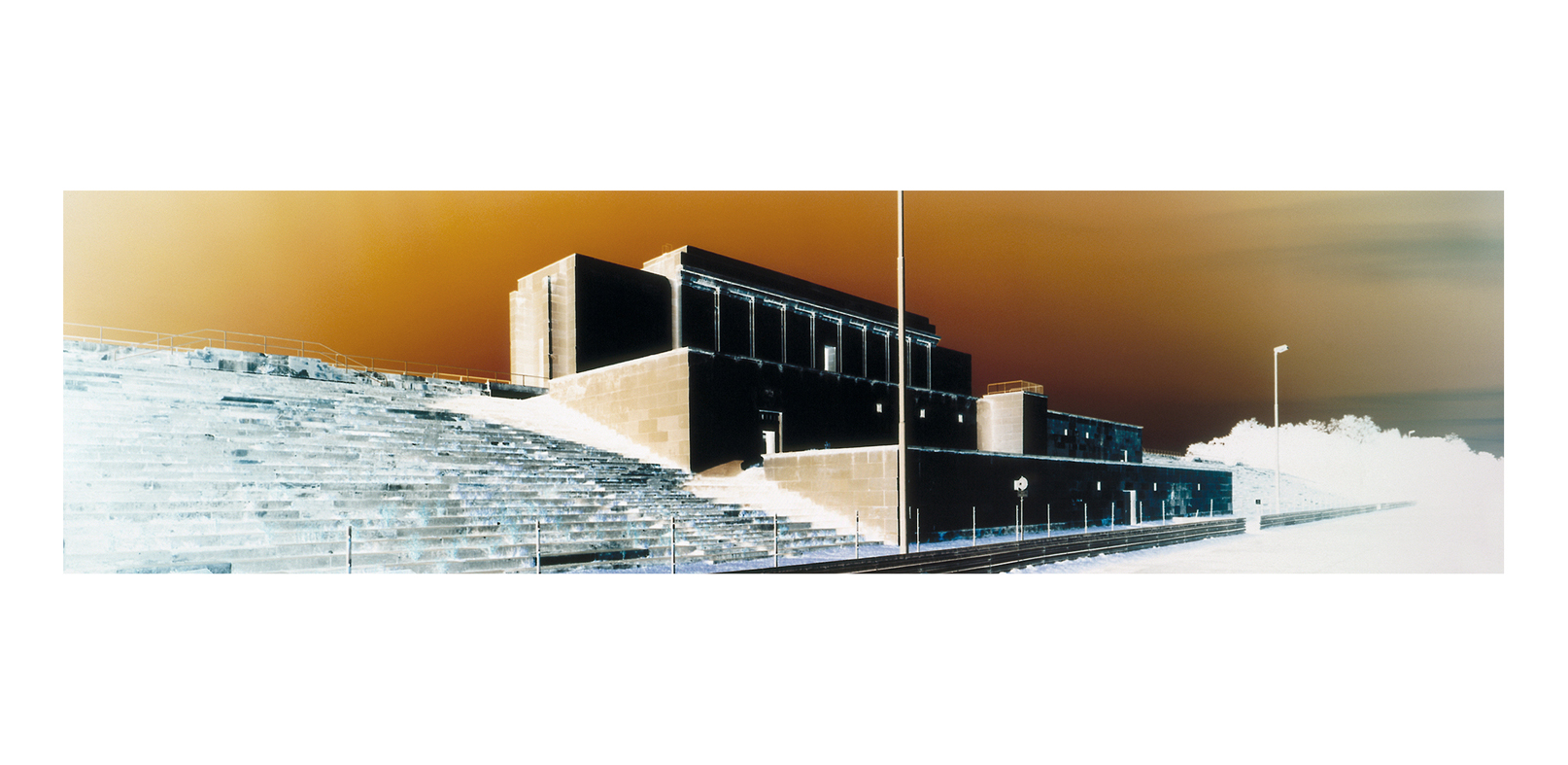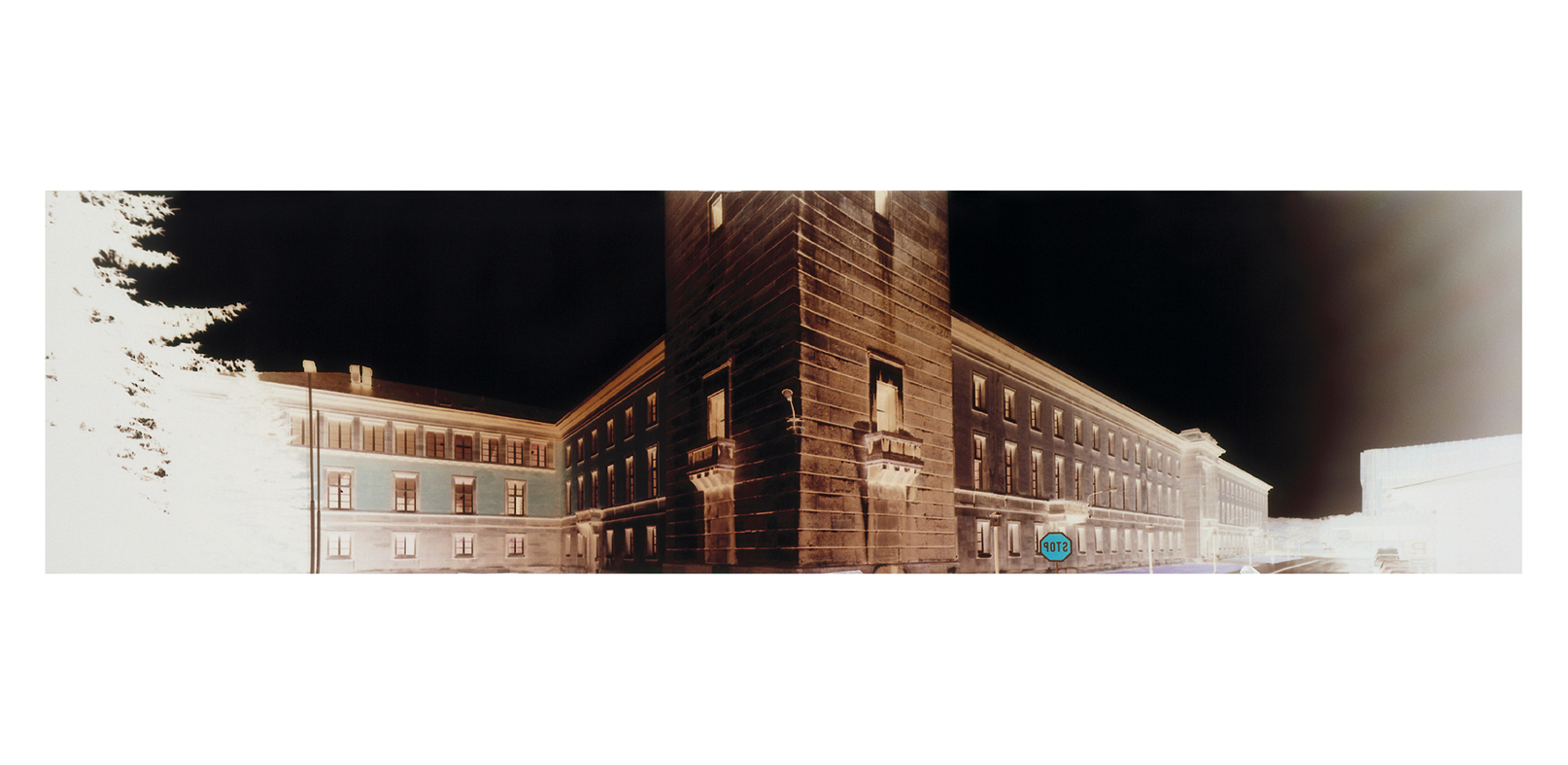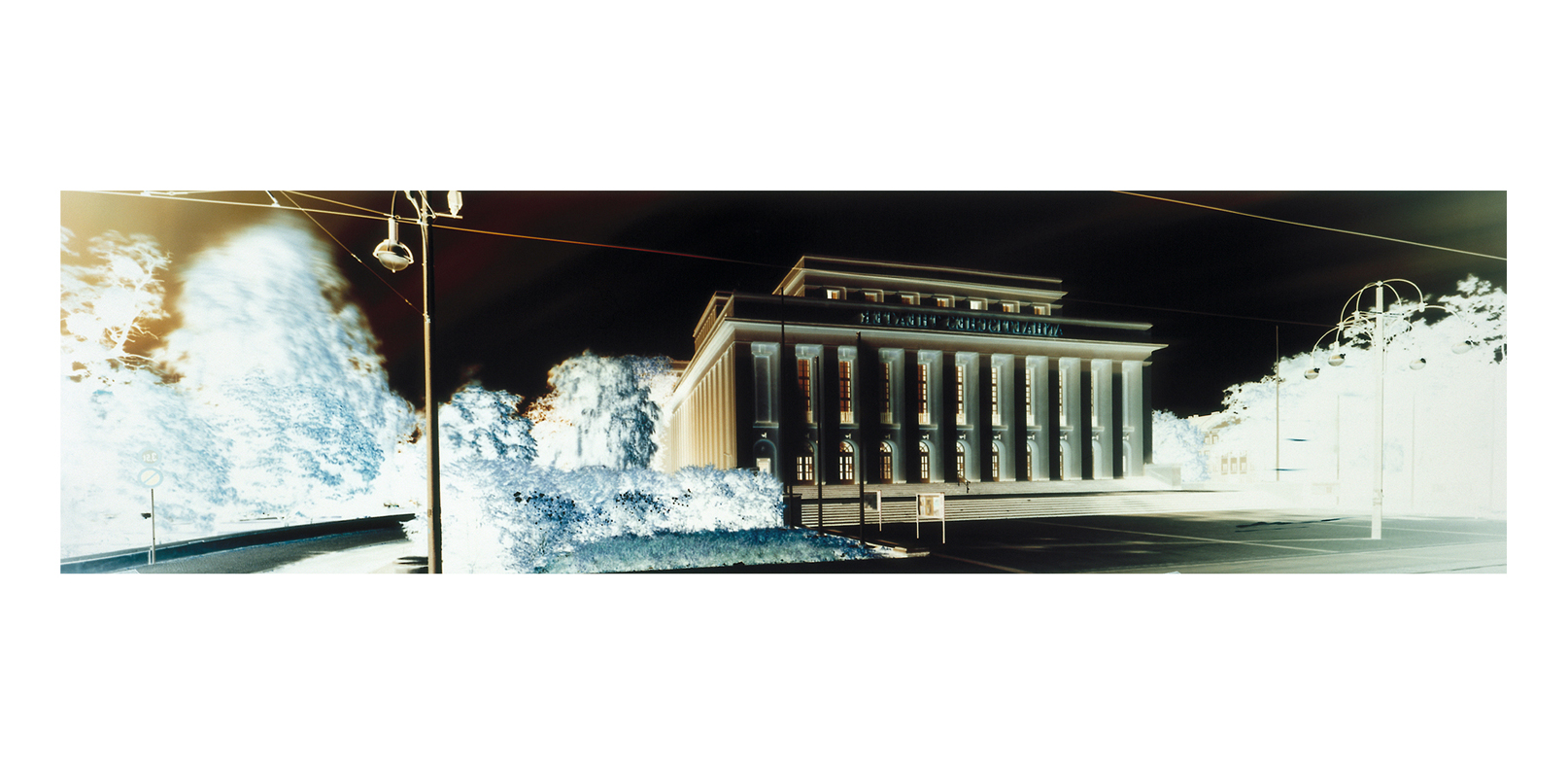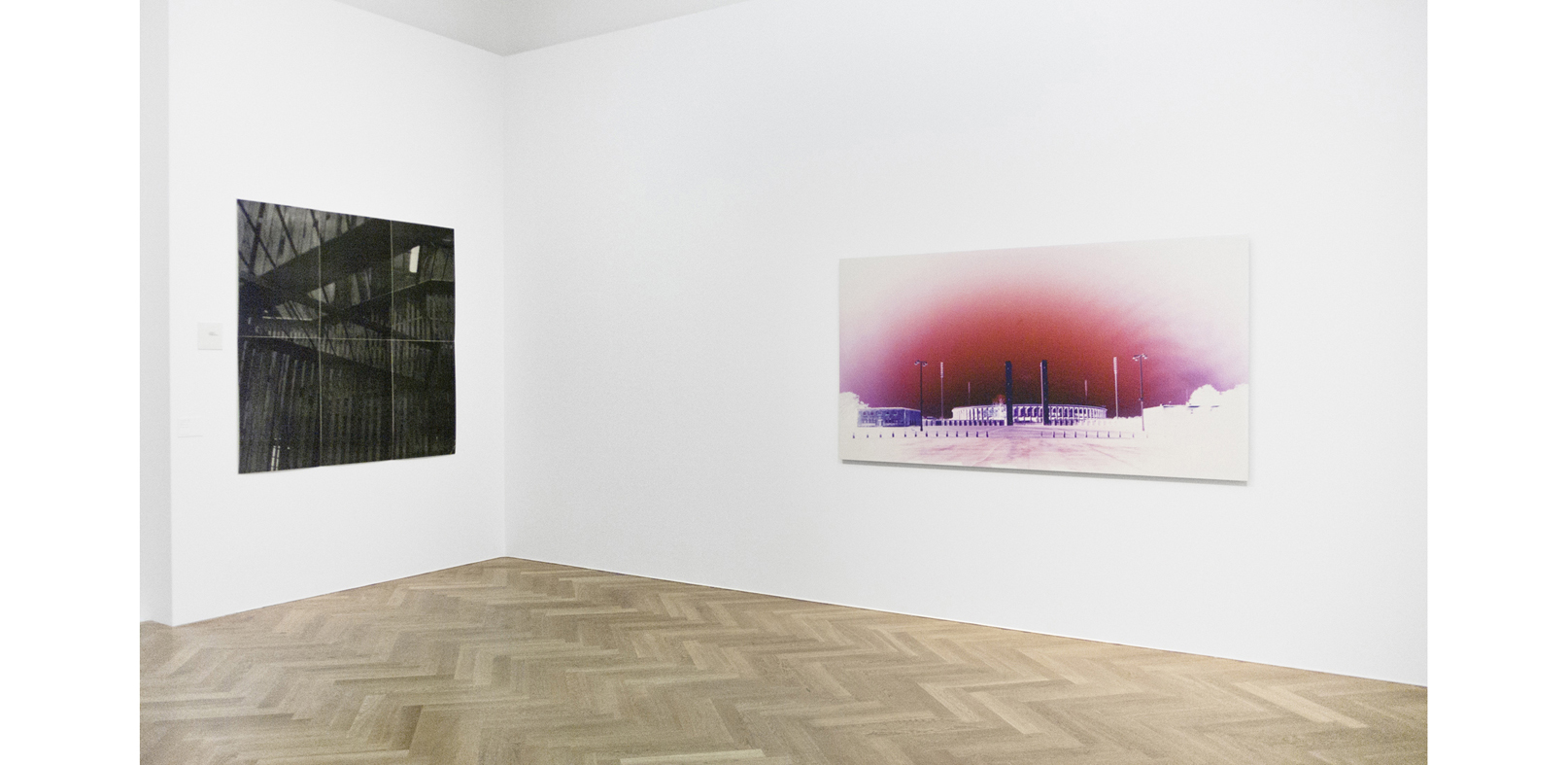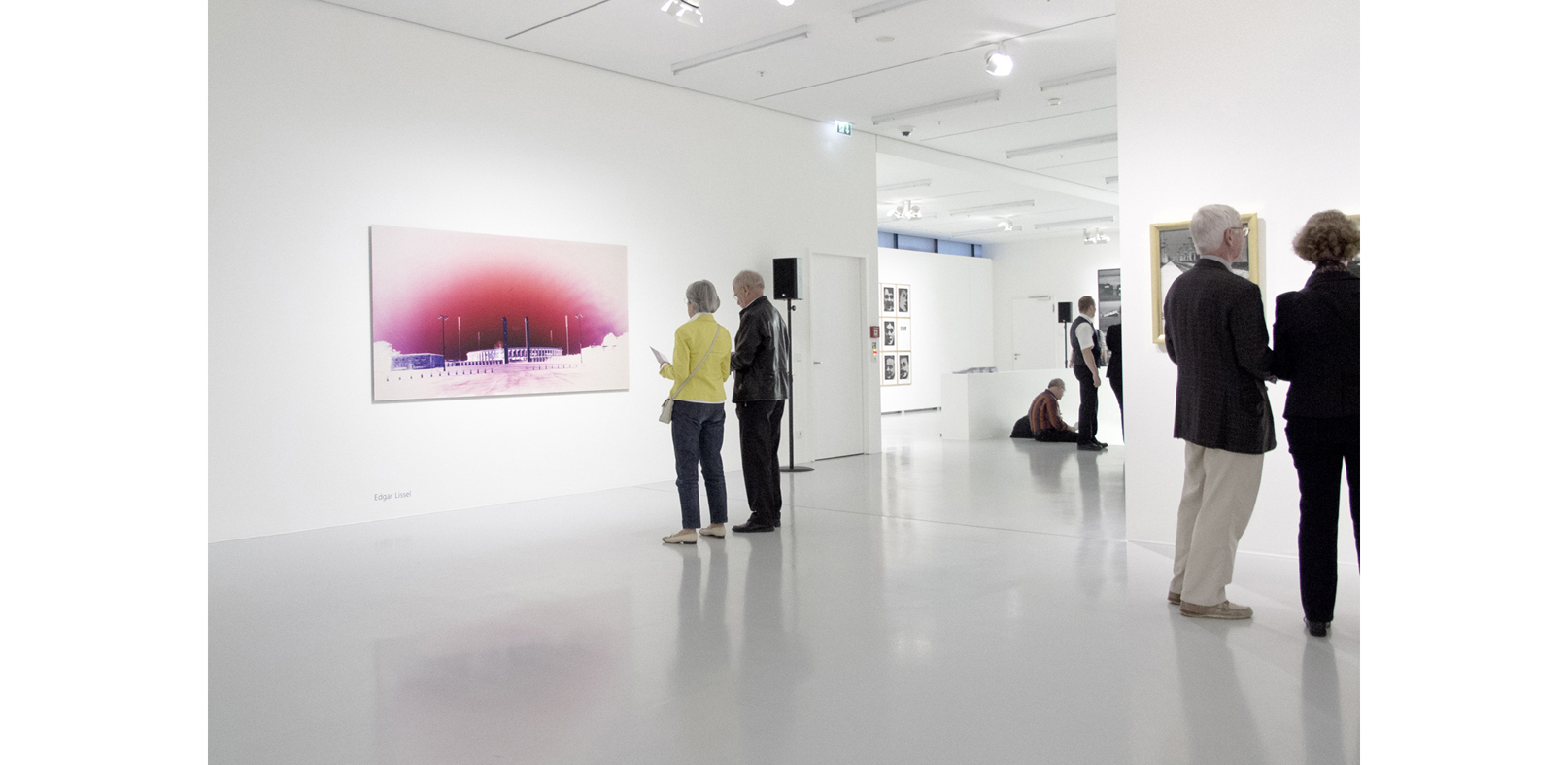 After extensive research and meticulous preparations, in October 1994 my journeys to various architectures of National Socialism began – an examination of Hitler's monumental architecture. Under his dictate gigantomaniac projects were built, which served as stagesets for diverse dramatizations of the regime.
Once again I converted a truck into a camera obscura with black fabric and thick foils. Inside the light falls through a minute hole onto large-format color negative photo material. The incident light passes through specially made color filters with different effects, immersing the architectures in a negative, surreal chromaticity. Dark windows seem oddly illuminated; the daylight atmosphere transforms into an artificial scenario.
Stagings, like Albert Speer's Cathedral of Light, seem to recur and pose questions about their aesthetic effect.

Unique, PE-coated color negative paper
Unique, b/w orthochromatic film
Illusion der Macht

Nach einer ausführlichen Recherche und akribischer Vorbereitung begann im Oktober 1994 meine Reise zu verschiedenen Architekturen des Nationalsozialismus – einer Auseinandersetzung mit der Monumentalarchitektur Hitlers. Unter seinem Diktat entstanden giganteske Großprojekte, die als Kulisse für die verschiedensten Inszenierungen des Regimes dienten.
Ein weiteres Mal habe ich einen Lastkraftwagen mit schwarzen Tüchern und schweren Folien zur Camera obscura umgebaut. Im Inneren fiel das durch ein nur winziges Loch gebündelte Licht auf großformatiges Farbnegativ-Fotomaterial. Extra hergestellte Farbfilter mit unterschiedlichen Auswirkungen filtern das einfallende Licht und tauchen die Architekturen in eine negative, unwirkliche Farbigkeit. Dunkle Fenster scheinen wieder beleuchtet, die Tagesstimmung wird zu einem künstlichen Szenarium.
Inszenierungen, wie unter anderem der Lichtdom von Albert Speer, scheinen sich hier zu wiederholen und nach ihrer ästhetischen Wirkung zu fragen.
---